WING 12 PL (FN-FW12PL-18)
Silent 120mm PWM Fan with LED
The WING 12 PL features a unique Nanoflux bearing which ensures a friction-free and silent operation. Thanks to the clever design and magnetic bearing the impeller can be detached for an easy cleaning. Additionally fan blade winglets were designed to achieve larger airflow and greater static pressure. Thank to GELID's Nanoflux Bearing the impeller can be detached and the fan blades can be cleaned easily.
a) 纳米磁通轴承 (NFB) 的主要特性
纳米技术复合材料可确保最低的磨损和极高的耐用性(MTTF 100'000 小时)。 与其他磁力轴承相比,该技术允许分离叶轮,因此可以轻松清洁风扇叶片。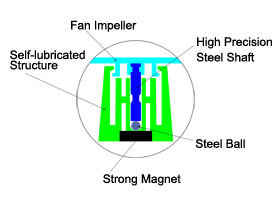 The material of the Nanoflux bearing is self lubricating
b) 纳米通量轴承 (NFB) 与套筒轴承和滚珠轴承的比较
尽管传统套筒轴承和滚珠轴承目前在风扇市场占据主导地位,但两者都有其缺点。 虽然套筒轴承的噪音排放非常低并且非常经济高效,但它们往往会漏油;一旦油耗尽,风扇将无法再运转。 另一方面,滚珠轴承虽然使用寿命更长,但成本更高、噪音更大且容易损坏。
GELID 的 Nanoflux 轴承使用磁通量来限制轴承和轴之间的接触和摩擦。 高精度自润滑材料,杜绝漏油现象。 结果是超静音长寿命轴承。
PWM Control & LED Light
Both models include a PWM Control which keeps the fan silent if no additional cooling is necessary but increases the fan speed whenever additional cooling is required. To give the fans a unique color, a white LED light is embedded into the 120mm green WING 12 PL fan.
*Green WING 12 PL is currently not available or for sale in EU countries.
EAN: 4897025780316