The Black Edition (CC-BEdition-01-A)
應用:
Intel™ Socket 775, 1155, 1156, 1366, 2011 & 1150:
CPU: 所有奔騰 D/ 奔騰 4/ 所有賽揚 D/ 所有奔騰雙核/ 至尊/ 全酷睿 2 至尊/酷睿 2 四核/ 酷睿 2 雙核, 酷睿 i5, 酷睿 i7

AMD™ Socket AM2/ AM2+/ AM3/ AM3+/ FM1/ FM2:
CPU: 所有速龍 64 x2, 速龍 64, 全速龍 II, 全閃龍, 飛鴻, 飛鴻 II, 全 A 系列 AMD APU 拉諾
所有品牌和商標均為其各自所有者的財產。
設計理念:
Traditional heat pipe arrangement of high-end heatsink heatpipes are usually soldered on one row. Therefore the heat absorption capacity of the outer heatpipe will be negatively affected when there are more than 5 heatpipes.
To solve this problem a special array of heatpipes was used on "The Black Edition" to take full advantage of all 7 6mm heatpipe heat transfer capacity. On "The Black Edition" two heatpipes were soldered on top of three middle heatpipes.

Traditional heatpipe arrangement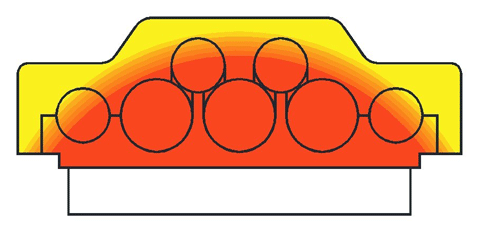 Unique heatpipe arrangement on "The Black Edition" to take full advantage of all 7 heatpipe.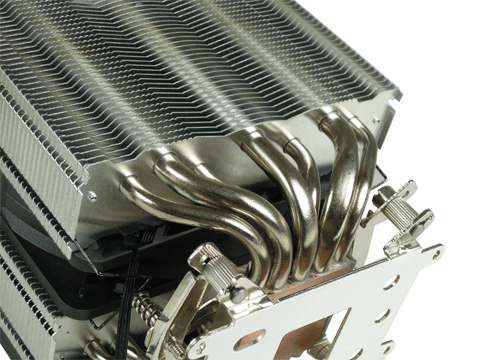 Slim 12 PWM & Silent 12 PWM:
The Slim 12 PWM (120 x120 x 15.8mm) features a unique Hydro Dynamic Bearing. 該軸承可確保靜音運行並確保較長的使用壽命。 The optimized fan blades generate high air flow.
Designed for advanced users GELID Solutions Silent 12 PWM fan provides additional airflow by using Pulse Width Modulation (PWM) to automatically adjust fan speed according to the CPU load. 風扇可以閑置,因此更加安靜。 風扇的PCB中集成了一個智慧IC,以利用主機板的BIOS軟體。 該技術比使用外部風扇控制器調節電壓更有效、更方便。
Up to total 3 fans can be mounted on the heatsink of the "The Black Edition".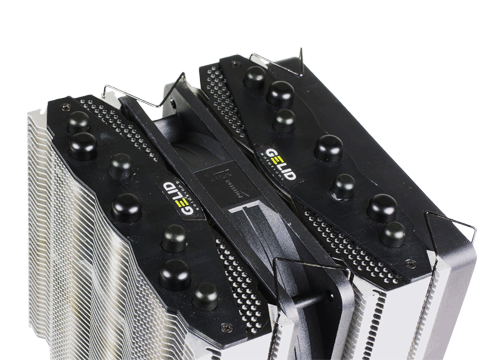 冷卻器符合 RoHS 和 WEEE 標準,並提供 5 年保修。 Installation manual for Intel™ andAMD™.
MSRP: USD 75 / Euro 59