The Black Edition (CC-BEdition-01-A)
Applications:
Intel™ Socket 775, 1155, 1156, 1366, 2011 & 1150:
CPU: All Pentium D/ Pentium 4/ All Celeron D/ All Pentium Dual-Core/ Extreme/ All Core 2 Extreme/ Core 2 Quad/ Core 2 Duo, Core i5, Core i7

AMD™ Socket AM2/ AM2+/ AM3/ AM3+/ FM1/ FM2:
CPU: All Athlon 64 X2, Athlon 64, All Athlon II, All Sempron, Phenom, Phenom II, All A Series AMD APU Llano
All brands and trademarks are the property of their respective owners.
Design Concept:
Traditional heat pipe arrangement of high-end heatsink heatpipes are usually soldered on one row. Therefore the heat absorption capacity of the outer heatpipe will be negatively affected when there are more than 5 heatpipes.
To solve this problem a special array of heatpipes was used on "The Black Edition" to take full advantage of all 7 6mm heatpipe heat transfer capacity. On "The Black Edition" two heatpipes were soldered on top of three middle heatpipes.

Traditional heatpipe arrangement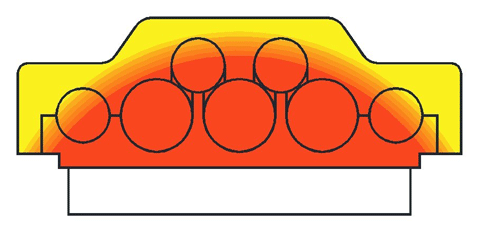 Unique heatpipe arrangement on "The Black Edition" to take full advantage of all 7 heatpipe.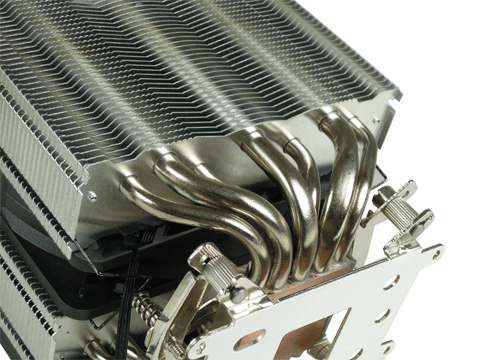 Slim 12 PWM & Silent 12 PWM:
The Slim 12 PWM (120 x120 x 15.8mm) features a unique Hydro Dynamic Bearing. This bearing ensures silent operation and ensures long lifetime. The optimized fan blades generate high air flow.
Designed for advanced users GELID Solutions Silent 12 PWM fan provides additional airflow by using Pulse Width Modulation (PWM) to automatically adjust fan speed according to the CPU load. The fan can be idled down and thus be much quieter. An intelligent IC had been integrated into the fan's PCB to exploit your mainboard's BIOS software. This technology is more efficient and convenient than using an external fan controller to adjust the voltage.
Up to total 3 fans can be mounted on the heatsink of the "The Black Edition".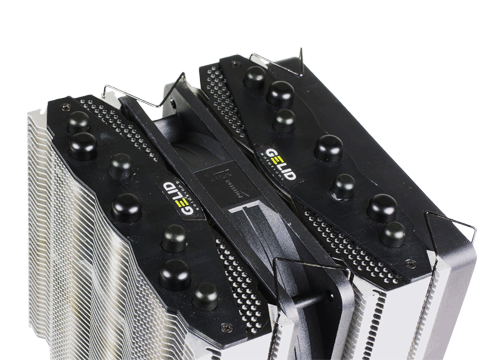 The cooler is RoHS and WEEE conform and carries a 5 year warranty. Installation manual for Intel™ andAMD™.
MSRP: USD 75 / Euro 59