WING 12 PL (FN-FW12BPL-18)
Silent 120mm PWM Fan with LED
The WING 12 PL features a unique Nanoflux bearing which ensures a friction-free and silent operation. Thanks to the clever design and magnetic bearing the impeller can be detached for an easy cleaning. Additionally fan blade winglets were designed to achieve larger airflow and greater static pressure. Thank to GELID's Nanoflux Bearing the impeller can be detached and the fan blades can be cleaned easily.
a) 納米通量軸承(NFB)的主要特性
納米技術複合材料可確保最低的磨損和極高的耐用性(MTTF 100』000小時)。 與其他磁浮軸承相比,該技術允許葉輪拆卸,因此可以輕鬆清潔風扇葉片。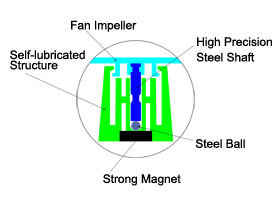 The material of the Nanoflux bearing is self lubricating
b) 納通軸承 (NFB) 與套筒軸承和滾珠軸承的比較
儘管傳統的套筒和滾珠軸承目前主導著風扇市場,但兩者都有其缺點。 雖然套筒軸承的噪音排放非常低並且非常具有成本效益,但它們往往會漏油;一旦油消散,風扇就不能再運行。 另一方面,滾珠軸承雖然提供更長的使用壽命,但成本更高,噪音更大,並且容易損壞。
GELID的納通量軸承使用磁通量來限制軸承和軸之間的接觸和摩擦。 高精度自潤滑材料,可消除漏油。 其結果是超靜音的長壽命軸承。
PWM Control & LED Light
Both models include a PWM Control which keeps the fan silent if no additional cooling is necessary but increases the fan speed whenever additional cooling is required. To give the fans a unique color, a blue LED light is embedded into the 120mm blue WING 12 PL fan.
EAN: 4897025780385