WING 14 UV Blue (FN-FW14B-12)
140mm Gamer Fan
The WING 14 UV Blue case fan is a premium quality, UV reactive, dust and water proof cooling fan for gaming enthusiasts.This fan features an unique bearing with patented design, winglet fans blades and low starting voltage. 只有最優質的材料才被用來製造這種最先進的冷卻風扇。 To add to the silence fan mounts replace traditional screws and are made of high quality rubber which stop vibrations from the fan motor from travelling into your PC case.
納通量軸承 (NFB)
獲得專利的納通軸承採用巧妙的磁性設計,高精度製造,無摩擦運行,無噪音運行。 利用電磁場來防止固體部件接觸。 負載由磁場承載。
a) 納米通量軸承(NFB)的主要特性
納米技術複合材料可確保最低的磨損和極高的耐用性(MTTF 100』000小時)。 與其他磁浮軸承相比,該技術允許葉輪拆卸,因此可以輕鬆清潔風扇葉片。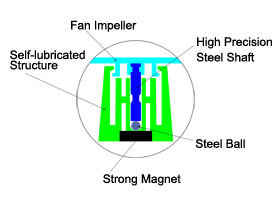 納通軸承的材料是自潤滑的,甚至防水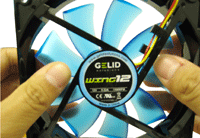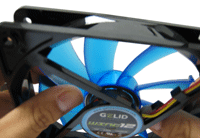 通過施加溫和的壓力,可以將風扇葉輪從黑色風扇外殼中取出。
b) 納通軸承 (NFB) 與套筒軸承和滾珠軸承的比較
儘管傳統的套筒和滾珠軸承目前主導著風扇市場,但兩者都有其缺點。 雖然套筒軸承的噪音排放非常低並且非常具有成本效益,但它們往往會漏油;一旦油消散,風扇就不能再運行。 另一方面,滾珠軸承雖然提供更長的使用壽命,但成本更高,噪音更大,並且容易損壞。
GELID的納通量軸承使用磁通量來限制軸承和軸之間的接觸和摩擦。 高精度自潤滑材料,可消除漏油。 其結果是超靜音的長壽命軸承。
Fan Speed Reduction Cable
The RPM fan speed can be decreased to super silent 900 RPM while connecting the fan speed reduction cable.
橡膠風扇支架
風扇電機的振動會傳播到PC機箱中,並在風扇緊密安裝時被放大。 如果您希望構建非常安靜或幾乎靜音的PC,則這種「振動」噪音很煩人。
這些橡膠支架專為處理風扇引起的振動而設計,是標準風扇螺釘的理想替代品,使振動與PC機箱100%分離。
特徵
– 高品質材料即使在高溫下也能確保長壽命
– Rubber fan mounts will not break or tear during installation
– Fan size fits to most PC Case chassis with 140mm fan mounting
– 快速簡便的免工具安裝
EAN: 4897025780385