Silent 12 PWM Black (FN-PX12-16)
120mm Silent Case Fan with Intelligent PWM Control
Designed for Silent Enthusiasts
Silent 12 PWM is crafted for Silent Enthusiasts and boasts the newly designed high-airflow impeller,advanced Hydrodynamic Bearing, and noiseless motor driver IC. The fan comes with the intelligent Pulse Width Modulation (PWM) control technology that automatically adjusts fan speed according to the CPU load, so it can be idled down and thus be much quieter. Silent 12 PWM also carries a set of soft rubber pads to eliminate vibrations, reduce noise and make the fan inaudible in your PC.
How does PWM work?
Pulse-width modulation (PWM) delivers a digital signal. The advantages of using a digital PWM signal compared to an analogue controller are:
– PWM control calculates the appropriate cooling performance according to CPU and System temperatures
– PWM control will always be adjusted to the correct cooling settings
– PWM control operates without generating any heat
The Intelligent GELID PWM Curve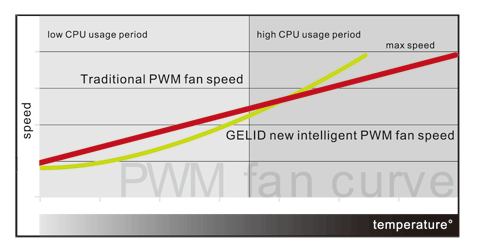 The intelligent GELID PWM Curve is more effecient than the traditional red curve of other PWM fans.
EAN: 4897025783034