GP-Extreme 120×120 Thermal Pad Series

The cutting-edge Thermal Pad
Thickness variants:
0.5mm (TP-GP01-S-A), 1.0mm (TP-GP01-S-B), 1.5mm (TP-GP01-S-C), 2.0mm (TP-GP01-S-D), 2.5mm (TP-GP01-S-F) 3.0mm (TP-GP01-S-E)
The GP-Extreme 120×120 Thermal Pad is designed to offer a perfect thermal interface to transfer heat to heatsink when installed on PCBs with height differences and uneven surfaces such as micro-controller units, memory ICs, analog ICs, MOSFETs, and other SMD components. Thanks to its softness and ultimate thermal conductivity the GP-Extreme fills spaces properly and offers the best performance in class.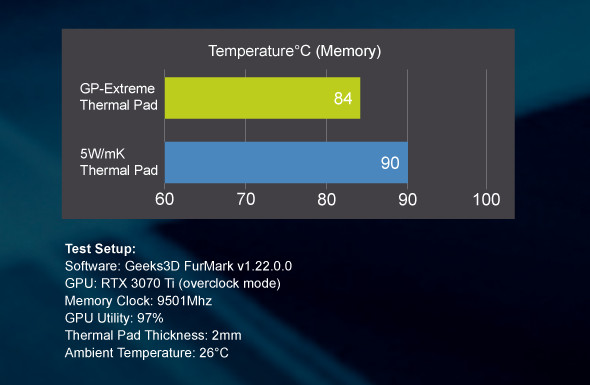 Please remove the protective films from both sides before application!
Once applied, the shape of the Thermal Pad becomes compressed and deformed, and it is non-reusable. 
0,5 mm: 4897025783249
1mm: 4897025783256
1,5 mm: 4897025783263
2mm: 4897025783270
2,5 mm: 4897025783454
3mm: 4897025783287