ICY VISION-A (GC-VGA02-02)
Compatible to:*
AMD™: HD5850, HD5870, HD6850, HD6870, HD6950, HD6970, HD7850, HD7870, HD7950, HD7970, R9 270X, R9 280X and R9 380
*The compatibility list is based on AMD™ reference board layout ONLY.  GELID Solutions holds no responsibility for incompatibility on non-standard cards. Please refer to the height restriction drawing. Installation manual for AMD cards to download.
Design Concept:
The "ICY Vision-A" cooler contains 5 power heatpipes in a unique heatpipe constellation. The heatpipes are interlaced into 85 optimized high-quality Aluminium fins. Together with a flat stack fin soldered Copper base, they enable the most efficient heat transmission and dissipation from GPU core in its class. Besides the heatsink, two 92mm UV-reactive fans with 11 blades in S-shape generate 20% additonal air flow than traditional fans. The fan contains a high-quality ball bearing to ensure a longer lifetime in high temperature environments.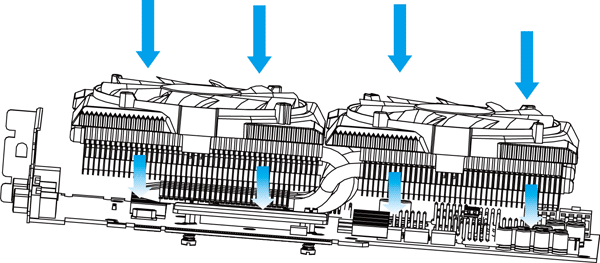 Both VGA fans blow cold air directly to the card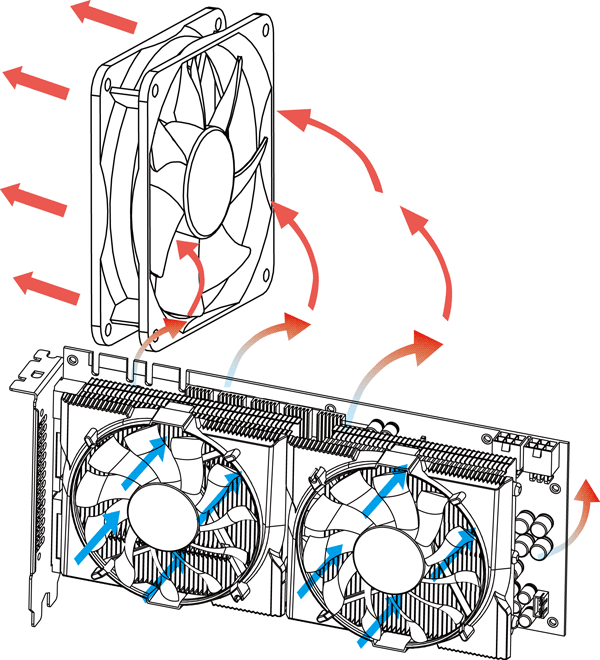 while case fans draw hot air from the PC case.
INCLUDING:
– Heatsinks for Ram & VRM
– High Quality GC-2 Thermal Compound
– Case Fan cable to power supply or motherboard
This cooler is RoHS, WEEE compatible and has a warranty of 5 years.
UVP: USD 55 / Euro 46
EAN: 4897025780552