Silent 8 PWM (FN-PX08-20) 
80mm Case Fan with Intelligent PWM control
Designed for advanced users GELID Silent PWM fans provide additional airflow by using Pulse Width Modulation (PWM) to automatically adjust fan speed according to the CPU load. The fan can be idled down and thus be much quieter.  An intelligent IC had been integrated into the fan's PCB to exploit your mainboard's BIOS software. This technology is more efficient and convenient than using an external fan controller to adjust the voltage.
Each fan impeller has been individually balanced using the latest technology to guarantee steady, unwavering operation. To add to the silence fan mounts replace traditional screws and are made of high quality, temperature resistant, extra long lasting rubber and stop vibrations from the fan motor from traveling into your PC case.
How does PWM work?
Pulse-width modulation (PWM) delivers a digital signal. The advantages of using a digital PWM signal compared to an analogue controller are:
– PWM control calculates the appropriate cooling performance according to CPU and System temperature     – PWM control of your mainboard will always adjust to the correct cooling
– PWM control operates without generating any heat
The Intelligent GELID PWM Curve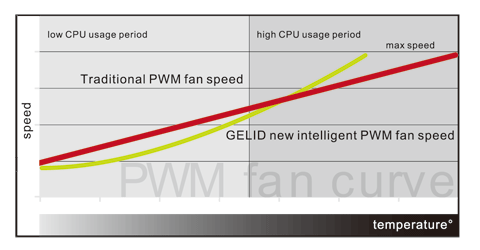 The intelligent GELID PWM Curve is more effecient than the traditional red curve of other PWM fans
EAN: 4897025780071