Silent Pro 14 PWM (FN-PX14P-15)
140mm (120mm compatible) PWM Case Fan without Clicking Noise
This fan comes with precisely optimized fan blades featuring high air flow and high static pressure but ultra-silent operation. The newly designed PWM IC, a core part of Silent Pro 14 PWM, eliminates any clicking noise of the fan. Additionally, the intelligent GELID PWM (Pulse Width Modulation) control unit drives the fan at an extended speed range from 450 RPM to 1500 RPM, it keeps the fan silent but accelerates the fan speed whenever higher air flow is needed. The Silent Pro 14 PWM uses the same mounting hole form factor as 120mm fans. Therefore it fits most PC Cases and CPU Coolers on the market. The Silent Pro 14 PWM also comes with a set of special fan mounts made of high quality, temperature resistant, extra long-lasting rubber which helps to stop vibrations of the fan frame from dispersing into your PC case.
How does PWM work?
Pulse-width modulation (PWM) delivers a digital signal. The advantages of using a digital PWM signal compared to an analogue controller are:
– PWM control calculates the appropriate cooling performance according to CPU and System temperature
– PWM control of your mainboard will always adjust to the correct cooling
– PWM control operates without generating any heat
The Intelligent GELID PWM Curve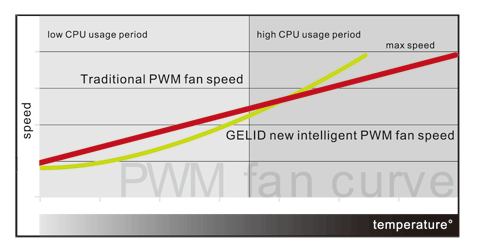 The intelligent GELID PWM Curve is more effecient than the traditional red curve of other PWM fans
EAN: 4897025781238