SlimHero (CC-Shero-01-B) 
Slim CPU Cooler with 120mm PWM Fan
Applications:
Intel Socket 775, 1366, 1155, 1156, 1150, 1151 & 1200
CPU: All Pentium D/ Pentium 4/ All Celeron D
All Pentium Dual-Core/ Extreme
All Core 2 Extreme/ Core 2 Quad/ Core 2 Duo
All Core i3, all Core i5, all Core i7
AMD Socket AM2, AM2+, AM3, AM3+, AM4, FM1, FM2, FM2+
CPU: Athlon™ 64 X2 (AM2), Athlon™ 64 (AM2),
All Athlon™ II, Sempron™, All Phenom™, Phenom II™, Ryzen™ (AM4)
All brands and trademarks are the property of their respective owners.
The SlimHero features 4 sintered power heatpipes with a silent and slim 120mm fan. The copper heatpipes ensure maximum heat transfer from CPU to the aluminum fins. The heatsink is built in a unique shape to lower airflow resistance. The cooler can be mounted on each directions of the AMD™ socket.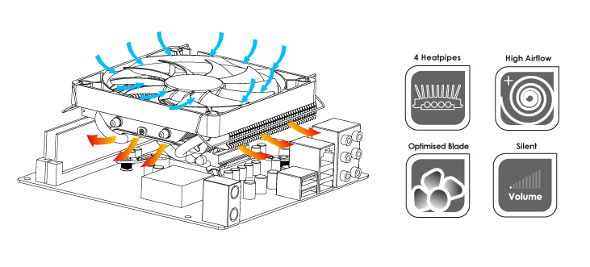 The low profile cooler SlimHero is designed for compact PC cases where space can be the key point. With total height of 59 mm this cooler can fit virtually all smaller cases and is able to cool up to 136W (TDP).

The heatsink is bundled with a silent and slim 120mm fan with high airflow. The fan comes with an intelligent PWM control which allows users to set the fan speed in BIOS accordingly.
Please check your motherboard with the restriction drawing of the cooler.
EAN: 4897025780750